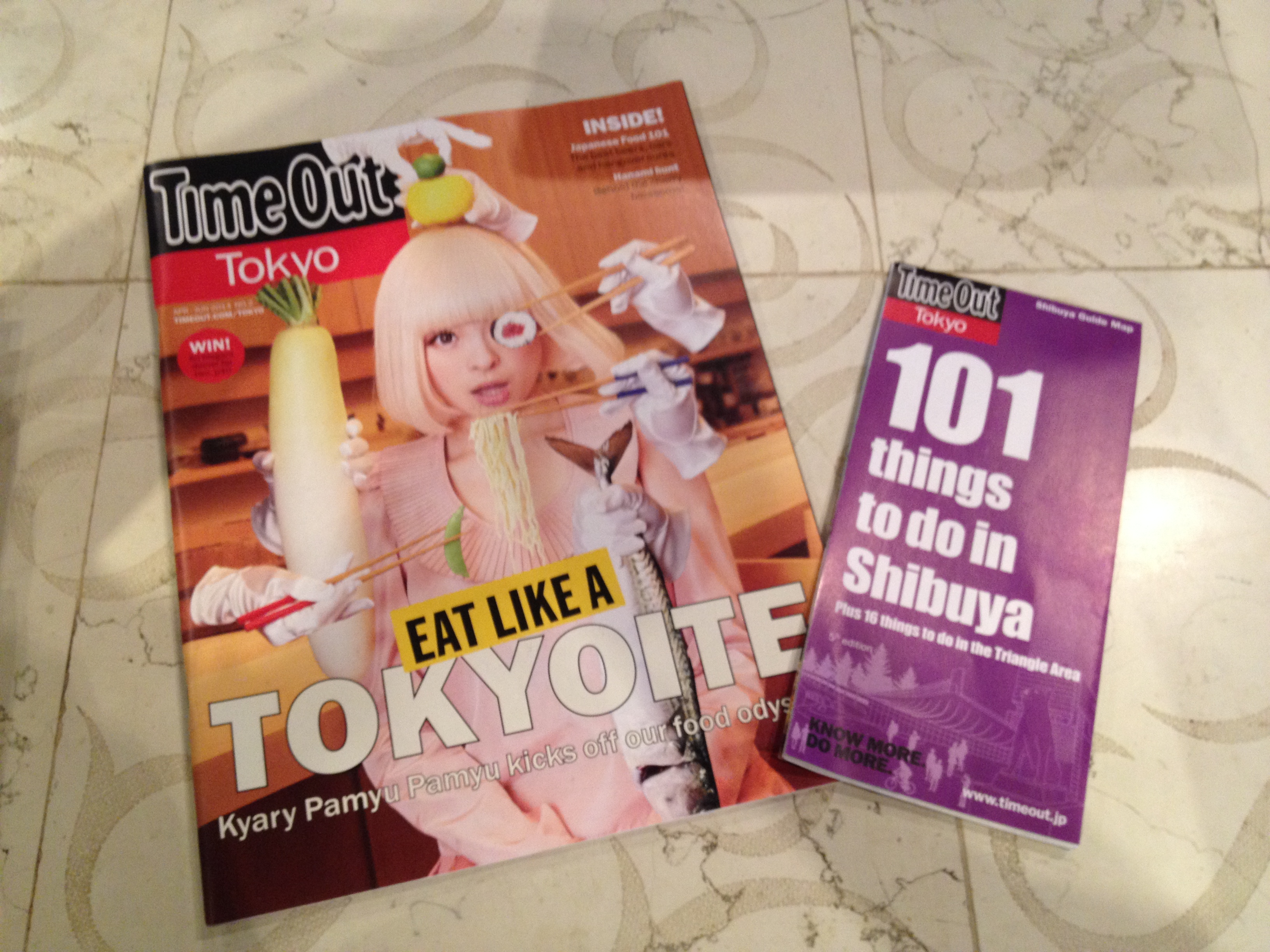 You would have found a sort of guide books with tokyo recently . You would be able to get the guide books of "free paper" at a place where is a hotel you stay , any book store , any information center of a railway , any shops . but those most of guide books are by English . If you need , You would be able to find another language guide books which is by Korean language , chinese language .
it is a sort of free paper , which is for the tourist of visiting japan .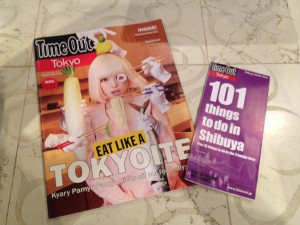 "Time Out" is a magazine basically . You maybe have seen it at UK or Singapore or Hong Kong , New York at USA , I think. But The magazine of "Japanese version" was published recently . You would find out the magazine of 3rd issue soon at July .
The photo is the 2nd of the issue.The Shibuya Map and The magazine of "Time Out" were gotten from the book store of shibuya. I'm sorry. Those are English language only .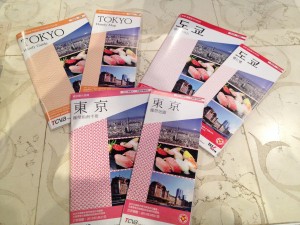 Those guide books were gotten from JR information center of Shibuya . you would be able to get the guide book freely. There are the language of three version , English ,Chinese language ,and Korean language .You can select any language of the guide books .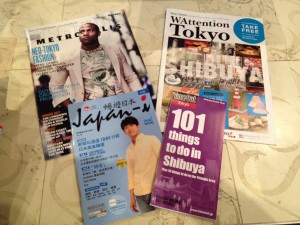 Those free paper were gotten at the information desk of Cerulean Tower Tokyu Hotel at shibuya . When I found the free paper on the information desk. There were two kinds of free paper , "METROPOLIS" and "WAttention" .
"METROPOLIS" was said "Tokyo Classified" which most contents was a ads from each personal on . It is English free paper for any foreigner stayed in japan. Now the free paper have been changed . The most contents are covered at the report of Tokyo. Now Still This free paper is English .
I saw this free paper for the first time. This paper is the guide book with English version of Tokyo too.The meaning of " WAttention " is follows.
"WAttention" is so named with the hope that people in the world would pay more "Attention" to "WA(和)"; an important term in Japanese culture meaning harmony with nature,peace and even Japanese culure itself !
The free paper have the contents of a culture related Traditional Japanese mainly , i think .
I asked for other guide books to a staff of information desk.
The staff brought me Other guide books, "Time Out Shibuya Map" and "Japan-i" .
A guide book named "Japan-i" introduce the place by map which are Tokyo and Kanagawa and Osaka . The book is wrote by chinese language .
You would be able to find other guidebooks or free papers . If you lost the way , Please search and check those guidebooks . the guidebooks will be given you good idea ,I think .
WAttention
http://www.wattention.com/
https://www.facebook.com/Wattention
Metorpolis
http://metropolis.co.jp/
Time Out Tokyo
http://www.timeout.jp/en/
Japan-i
http://www.japan-i.jp/chs/